An ID Card is the primary requirement of any student after admission specially for them who came from another city or state for education. They have no ID proof or any other document for their identity. A nice card speaks a lot about your School/College/ University. Design your ID card with us who knows better about quality.
JobOfficer Press is an engineering entrepreneur with professional technocrats employing collective skills and long years of experience as team partners to deliver finesse and distinctive class in printing. Our motto has always been timely supply, best quality and optimum cost. We are in touch with our customers through quality, performance, service and assistance. Bringing the best of value to our customers, we also care as much about our customers. We look forward to your business and hope you would give us a chance to serve. Â We provide barcode enabled ID cards and also smart RF ID cards too. We also provide digital tag
Plastic Card & Accessories
Student ID Card
Employee ID Card Single Side
Non Printed Lanyard
ID Card Holder
Membership Card
Loyalty Card
Luggage Tag
Warranty Card
Economy Lanyard
A Grade Lanyard
Multicolor Lanyard
Exhibitor Card
Retractable Reels Yo Yo
Round Luggage Tag
Employee ID Card Double Side
Contact: +91-9868435712, 09266331234 Email: info@web4bharat.com
Normally our ID card average life is 5 years.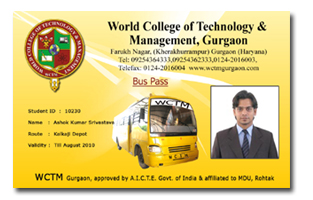 Features:
+ Full color printing on 300 microns PVC ABS Sheet.
+ Finished Size: 86 mm x 54 mm ( Credit Card Size ).
+ Choose from Selected templates.
+ Free card holder.
+ Free Printed Strip (Tags) with brand name.
+ No Shipping and Processing charges to be paid.
+ Waterproof and Non-Tear Material.
+ ID Cards for Hostelers.
+ ID Cards for students using transport.
+ Recycled Plastic Used.
Requirement:
+ Students data should be in excel format.
+ Student Photographs at least in passport size.
Image Resolutions
+ All images and pictures should be 300 dpi.
+ Rasterized text or logos should be 1200 dpi.
Note: For professional photographs we are available with Dress Code for both boys and girls
.